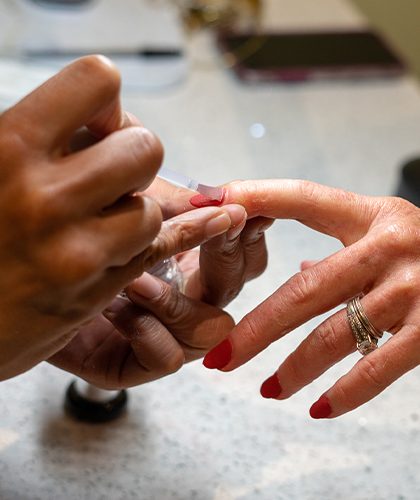 Full Set: $45+
Full Set w/ Gel: $60+
Fills: $30+
Fills w/ Gel: $50
Low cost, easy maintenance product that works best with a nail polish color. Very durable, a great introduction to your first set of artificial nails!
Full Set: $60+
Back Fill: $50+
Pink Fill: $25+
Our most popular type of nails for the businesswoman. Pink and whites are strong and custom cut to be perfectly fitted to your nail bed. These nails are flawless, non-yellowing, and chip resistant. Available in American (off-white) and French (super white) styles.
Color Blended Acrylic Nails
FULL SET: $50+
FILLS: $45+
Acrylic nails with custom-blended color are one of the newest trends in the industry and a service you are sure to love! Color is actually infused into the acrylic, permeating the entire nail. We can blend nearly any color you desire, and the results are truly spectacular. Prevents chipping and your fill lines never show. Your nails will look like you just had a manicure… everyday!
Full Set: $50+
Full Set With Tip: $55+
Fills: $35+ (Same Color Only.)
Dip It Nails are great for people with chemical allergies. They are very lightweight and have a natural feeling.
Fill: $25+
Liquid: $55+
Full Pink & White: $75+
Fill: $45+
Gel nails are very clear and enhance the color of your natural nail bed. Great for people who want a natural nail look.